Lewis James – The Death Of Habit EP [Exit Records]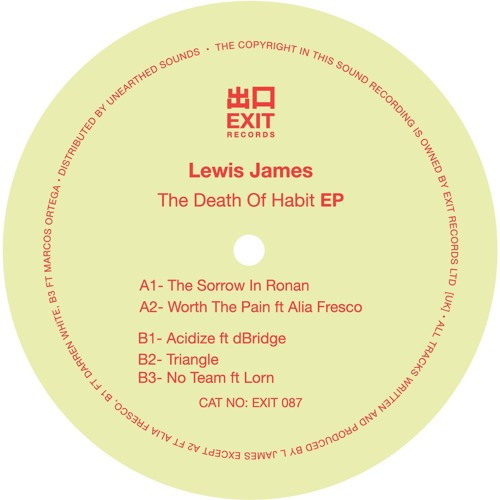 Lewis James hat mit seinen Releases auf Astrophonica und Lowriders schon oft sein Händchen für Atmosphären und Melodien bewiesen. Mit der The Death Of Habit EP für Exit steigt der Künstler jedoch noch mal in neue Sphären auf.

Die EP bildet ein melancholisch-musikalische Reise, welche mit den beatlosen Flächen von The Sorrow In Ronan beginnt und sich in dem wunderbaren Autonomic-Stück Worth The Pain, mit der Begleitung der Sängerin Alia Fresco, fortsetzt. Autonomic bleibt es auch bei den Folgestücken Acidic ft. dBridge und Triangle.
Mit No Team, einer Kollaboration mit Lorn schafft es Lewis James dann noch einmal die eh schon hohe Qualität der Platte weiter anzuheben und verknüpft seine Rhythms mit Lorn dystopischen Melodien und schafft damit wohl einen der Tracks des Jahres.