Tinkah – Thoughts You Are Not Supposed To Speak Out In Public [HUMAN]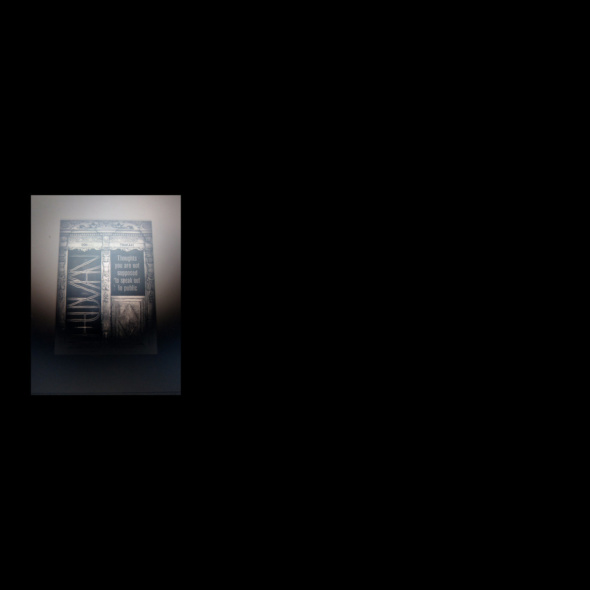 Leipzig scheint aktuell kreative Hochburg in der Bassmusik Szene zu werden und hat neben bekannten Labels wie Defrostatica nun mit Tinkahs HUMAN ein neues Label am Start.

Für Katalognummer Eins sorgt Tinkah mit Thoughts You Are Not Supposed To Speak Out In Public selbst. Passend zum Titel sind die sechs Tracks ganz simple mit Thought 1 – 5  (von Thought 4 gibt es Part I und II ) betitelt. So rückt Tinkah die Musik hinter den Namen voll in den Vordergrund.

Allen Tracks haftet eine nachdenkliche Tiefe an die sich jedoch in viele verschiedene Richtung bewegt. Während Thought 1 sich mit dubbigen Sounds und entfernten Vocals ganz langsam und melancholisch aufbaut, versetzt Thought 2 mit Pianomelodie und hämmenden Kicks die Gedanken etwas mehr in Schwung. Thought 3 und Thought 4 (Part I) lassen die Beats, bis auf sanftes Klickern, Plätschern und hintergründige Kicks fast komplett links liegen und erschaffen so das Gefühl eines dystiposchen Soundtracks.

Thought 4 (Part II) ändert die Richtung und überrascht mit einer aufheiternden Meldodie zu der Tinkah völlig unerwartet ein kleines Breaksfeuerwerk loslässt. Das Ende mit Thought 5 findet zu einer ähnlichen Soundästhetik wie Thought 1 zurück und schließt so den Kreis zu einem ersten starken Release auf HUMAN.

Das Release erhaltet ihr sowohl digital als auch physisch über HUMANS Bandcamp.